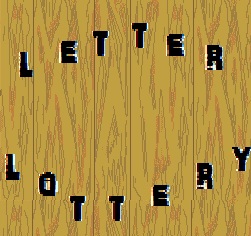 Rules of PLAY
Each member gets to choose 6 letters of their own choice as in normal number lottery.
A member can choose upto 10 lines of 6 letters.
Each line will cost V$1000 and will be put into a kitty.
If anyone gets all 6 letters then that member willl get the share for 6 letters plus a bonus amount that will be decided after the draw.
There will also be BONUS tiles that will contain anything from Nothing to a mystery prize or they could double, treble or halve your winning.
The prize V Cash will then be divided up as follows
3 letters
4 letters
5 letters
6 letters
Bonus's
If you have picked any of the following letters you will get an instant win if that letter is drawn
J = V$1000
K = V$1500
Q = V$3000
Z = V$5000.
The drawer will take place at 9pm (UK TIME) in the cam room on a Sunday evening.
All players to enter their draw letters in a new post below this post.
All players will be able to enter their draw letters up until and NOT after 8pm UK time on Draw night as this gives me time to deduct from everyone's accounts and set the prize money.
At 8pm UK time the draw posts will be locked so no other entries can be made.
The letters used are based on the amount of letters used in a standard game of ©Scrabble™
Post your lines below Max 10 lines of 6 letters.
You don't have to have words Just jumbles letters will do